Applications
MOBI-ONE 
Main features of the machine include:
Operation 1 - Framing
touch screen controller with interactive display of the panel
2nd screen to enable working from inside of the machine (when building a frame)
servo controlled rise and fall of framing tools for full control of nailing quantities and positions
independent top and side clamping to ensure the panel is retained exactly square
heavy duty positioning stops for accurate positioning of the framing components
heavy duty rack and pinion with electric motor
retractable side pressures pull the panel square at the top as well as the bottom
Operation 2 - Cladding
one moveable carriage can have up to three tools mounted e.g. stapling of the cladding and nailing of the battens
optionally a 2nd fixed carriage can be fitted, enabling the bottom rail to be nailed at the same time as the top rail
heavy duty fixing tools can be used
Operation 3 - Routing
sheets can either be pre-cut or simply placed on the panel and trimmed to size using the (optional) router
the router is mounted on the moveable carriage and is connected to a portable dust unit that is attached to the bridge
openings for windows and services can be routed out 
Operation 4 - Membrane Application
the machine has an integrated roll holder to enable any plastic or breathable membrane to be easily dispensed
the paper is manually fed around a roller on the bridge and drawn across the panel
this enables the operator to easily staple it to the panel and cut any openings and corners
Operation 5 - Batten Fixing
the bridge positions itself in the first location for a batten and a specially designed stop drops into place
the operator then manually inserts the batten and starts the cycle
the moveable carriage then moves towards the operator guiding the position of the batten and nailing it as it cycles in accordance with the panel design 
Operation 6 - Outfeed
once the panel is complete, the operator releases the side clamping and the clamps on the idle rollers in the table and manually pushes the panel out of the machine
swing gates allow for easy access across the line 
Optional items include:
Flooring & Roof Cassette Assembly Station - A jigging system with open access between the units to allow operators to easily insert the floor joists. Frames can either be decked on the unit or transferred to a bridge for subsequent finishing. The unit can be configured in either a base specification or with a number of options to ease the method of working and increase throughput.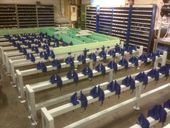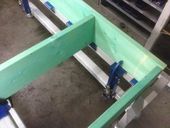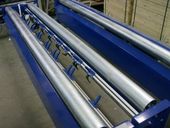 Turnover Tables - To enable the panels to be insulated the panels must be turned over. Using a simple butterfly table the panels can be both rotated and worked on. They can then be returned to the vertical position for subsequent processing, or the fitting of windows and doors. 
Working Tables - Idle outfeed roller tables - with 300 mm wide roller and pneumatic roller locking enabling further operations to be undertaken.